YAG Laser Capsulotomy
What is a YAG laser capsulotomy?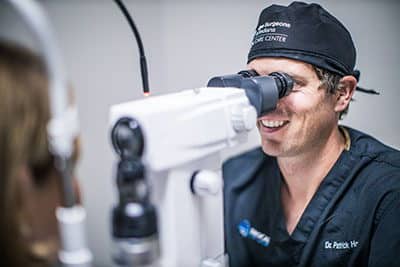 A YAG laser capsulotomy is a laser treatment used to restore your vision after cataract surgery. It is a simple and safe procedure that is very common.
During cataract surgery, the cloudy lens inside your eye is removed. A new artificial lens is placed inside the lens membrane that held your natural lens. After cataract surgery, it is common for the membrane (or capsule) that holds the lens implant in place to become cloudy. This common, and natural change, can occur months to years after your surgery, resulting in a limitation of light reaching the back of the eye. This can cause your vision to become blurry, and you may experience glare at night.
What happens during a YAG laser capsulotomy?
You will need to visit one of our doctors at Eye Surgeons of Indiana for this outpatient procedure. The treatment will be performed in one of our laser treatment rooms. Drops will be put into your eye that dilate the pupil and numb the front of your eye. The procedure will only take approximately one to two minutes, and you should be comfortable the entire time. A laser is directed at the back portion of the cloudy capsule that holds your lens implant. An opening is made in this tissue that will clear a path to the back of the eye. When the procedure is finished, there are no post-operative restrictions and you can resume your normal activity, immediately.
Once completed, this procedure typically will never need to be repeated again.