About
Eye Surgeons of Indiana
We at Eye Surgeons of Indiana are in the business of changing lives. Our ophthalmologists in Indianapolis, Greenfield, Anderson, Greenwood, and Lafayette are proud to offer the latest diagnostic and therapeutic technologies to improve your vision throughout your lifetime.
We strive for total patient satisfaction. Our caring and dedicated staff of professionals work in a team environment. Every detail of our practice, from the reception area to the surgical suites, is designed to meet the needs of our patients undergoing eye surgery.
Here, you'll take advantage of door-to-door transportation on the day of your surgery, in addition to the convenience of being insurance friendly (less out-of-pocket costs than hospitals). You can rest easy, knowing that all our staff specialize in eye surgery, and you'll be comfortable in our surgical suites and recovery rooms designed with your needs in mind.
We've performed over 100,000 procedures in the last 26 years at one of the top eye centers of Indiana and boast complication rates well below the national average. In fact, most of our patients rate their experience with us as "Superior." The Difference is Clear.
Tina Allen, CEO/Executive Leader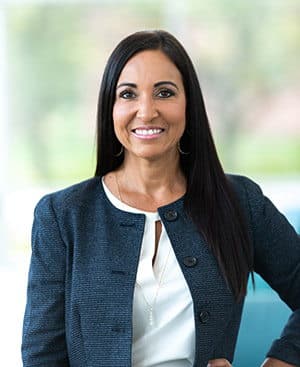 Meet the CEO of Eye Surgeons of Indiana, Tina Allen. Tina grew up in Marion, Indiana where she met her high school sweetheart and they've been married ever since. Her family, including three sons, now calls Geist home. Tina works from our flagship Indianapolis eye care center location on North Meridian.
With over 25 years of ophthalmic experience, Tina began her career as an optician and surgical scrub technician in San Diego. She joined Eye Surgeons of Indiana in July, 2001. Tina has acquired four certifications over the course of her lifelong career in the eye care industry: ABO (American Board of Opticianry), COA (Certified Ophthalmic Assistant), OSC (Ophthalmic Scribe Certification), and COE (Certified Ophthalmic Executive).
Tina is honored to work in an environment that embraces cutting edge technology. Tina says that "It is a blessing to be part of a team of surgeons, optometrists, and ophthalmic professionals that strive to work towards common goals and fundamental practices that lead to an outstanding patient experience." To Tina, employee engagement is one of the most important factors in the overall success of our company. She has created a culture where employees feel engaged, appreciated, and fulfilled.
In her spare time, Tina enjoys traveling, wake surfing, and spending time on Geist Reservoir. She also enjoys dog sitting Cooper, her son's Welsh Corgi.
Community Outreach
Eye Surgeons of Indiana investing in children with visual impairments so a child will thrive in school and daily life.
Top Workplace in Central Indiana & USA
Eye Surgeons of Indiana is honored to be a recipient of the Top Workplace Central Indiana award in 2020, 2021, 2022, & 2023 and the Top Workplace USA award in 2021 & 2022.
It was our employees who engaged in the research project spearheaded by the IndyStar and Energage. We are very proud of our team and would like to thank them for choosing us as a "Top Workplace" for 2020, 2021, 2022, & 2023!
Privacy Policy/HIPAA
Review our patient privacy policy.
Testimonials
Just a few of the patient reviews you will find on Google and Facebook.