Advanced Surgery Center
Advanced Surgery Center was created in August 1997 with the primary goal of providing excellent surgical results with 100% patient satisfaction. Every detail from the check-in stations to the surgical suites, was designed specifically to meet the needs of patients undergoing eye surgery. In fact, this is the only "eye specific" ambulatory surgery center in Lafayette, Indiana. The Doctors of Eye Surgeons of Indiana, world renowned leaders and innovators in cataract surgery, are pleased to provide you with excellent patient care in this state-of-the-art facility.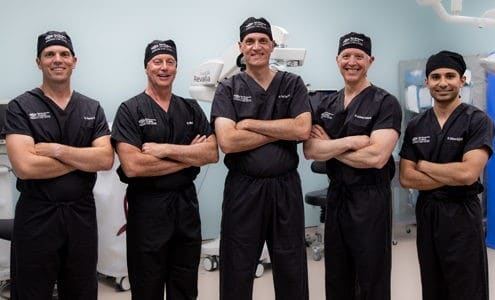 Advanced Surgery Center has earned an AAAHC Accredited Ambulatory Surgery Center, which is the highest honor of certification available.
The personal attention you deserve. The convenience you need.
Advanced Surgery Center provides numerous advantages in comparison to eye surgery done in a hospital outpatient setting:
Convenience
Located in Lafayette, Indiana
We are a Medicare approved facility, exclusively devoted to cataract and related eye surgery
We are an insurance friendly facility – charges and most importantly your average out-of-pocket cost is always less than procedures performed in the hospital
Comfort
Exceptional experienced staff specializing in eye surgery only
Ultra-modern operating suites
Advanced surgical techniques which allow most procedures to be done with topical anesthesia (eye drops) only
Anesthesiologist provides optimal patient comfort on an individual basis
Results
Complication rates are considerably lower than the national average, even when compared to major university-based hospitals
Teamwork and experience allows the elimination of many costly errors
More than 98% of our patients rate their experience at ASC as superior care
Testimonials
Very prompt, efficient care. As a nurse myself, I was very aware of all going on around me. The procedure itself was pain free. My recovery has been without any major issues. The entire staff was friendly and very professional. I felt very comfortable with them and would recommend them highly.

Cataract Patient, C.B.
Everyone I worked with was very professional and knowledgeable. I had cataracts removed and multi-focal implants added. My sight is miraculously wonderful and I'm very grateful for their time and attention. They addressed my concerns and made sure I knew exactly what they'd be doing with my eyes. I couldn't be happier with the results!

Cataract Patient, C.L.
Appreciated the excellent service from front desk, nurses, assistants, and Dr. Hopen. The surgery was efficient and a game-changer…after 60 years of needing corrective lenses, I now have 20/20 vision without glasses or contact lenses!

Cataract Patient, M.B.
It all started with the cataract eye surgery evaluation. The Eye Surgeons of Indiana "team" are truly amazing. And I do believe they are a team. Clinic and surgery!

They treat you and make you feel like your issues matter. They tell you what they are doing and what they are going to do. On surgery day their concern is all about you!

Dr. Orr performed my surgeries. He is a very gifted surgeon. Dr. Orr and the Eye Surgeons of Indiana team are truly answer to prayer. They restore the Blessed gift of sight! ❤️❤️❤️ My sincere gratitude!

Cataract Patient, R.B.