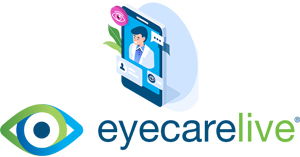 To ensure that our patients stay safe and healthy during social distancing guidelines, we offer the ability for you to talk to a doctor and be examined through our virtual app EyeCareLive.
Download the Eyecare Live app to connect with our practice. if you use an Android phone, visit the Google Play Store. If you use an iPhone, visit the App Store. This will allow you to schedule virtual appointments, exchange information with your doctor via secure messaging, request medication refills, take a vision test, upload photos and more!
1. Download the Eyecare Live app on your smartphone via the Android Google Play Store or iPhone App Store
2. Register using an email address
3. If you are a new patient, please add medical insurance information
Optional tests to complete prior to your visit:
• Vision Test
• Dry Eye Test
A technician will connect with you at your scheduled appointment time via the Eyecare Live app.
If you have trouble downloading or simply choose not to use the app, that's not a problem at all. You will receive a text message on the day of your appointment with a link to your virtual visit. Yep – that's it!
Please call us at 317.841.2020 with any questions or concerns.